How to set link redirect expiration?
In Cutly, you can set a short link redirection to expire. If you set the redirect to expire, then, depending on the settings after reaching a given date, or after reaching the indicated number of clicks, depending on the settings or whichever comes first (if two options are set at the same time) - the link will redirect to the new indicated URL. The option is available depending on the subscription plan.

To set a link expiration:

1. Log in to your Cuttly account.

2. Go to the list of short links in your dashboard.

3. Click the link expiration button.





4. A form will open where you can edit the link expiration parameters.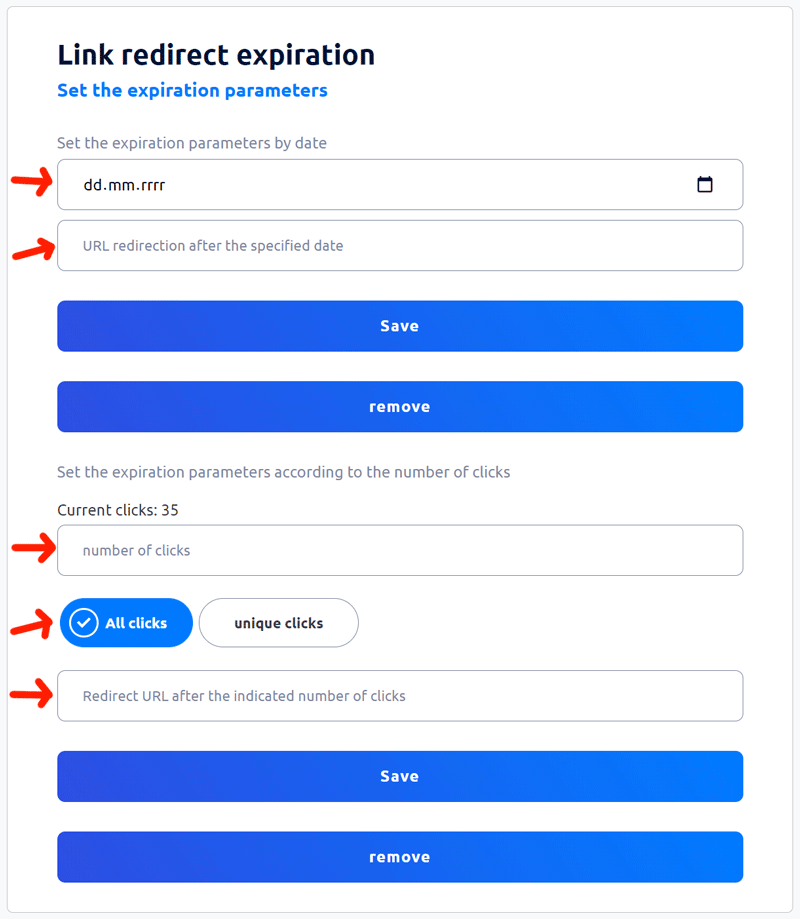 5. To set the link expiration by date, you need to set the date and enter the url address to which the link will redirect after reaching the indicated date.

6. To set the link to expire after reaching the indicated number of clicks, you have to enter the number of clicks, select whether the clicks counted until the link expires should be counted for each click or unique, and then enter the url address to which the link will redirect after reaching the indicated number of clicks.

7. You can set the expiration only on the date or only on the given number of clicks, but also can set both of these parameters - then the parameter that comes first will apply.

8. After editing, save the changes for each part separately - for the date and for the number of clicks.

Find out more about the options available in your subscription plan here: Cuttly pricing and features